I've been a bit MIA lately because I have a neck injury that is making it difficult to sit at the computer and live and stuff. I know what you're thinking: didn't I delete this blog from my reading list three months ago? YOU DIDN'T.
I fell at work the other day. (That's not how I hurt my neck; only my self-esteem suffered.) I was trying to cover an extremely slippery spot with a mat so my dancers wouldn't injure themselves, and then I wiped out. As I was laying on the floor, Chloe looked down at me and said, "I've never seen you that low before. I mean, I've seen you sitting and standing, but I've never seen you laying."
Speaking of falling, most dancers have a few horror stories about performances-gone-wrong. My favourites usually involve costume malfunctions and nose dives. Years ago, my friend Noriko was telling a group of us about a fall she had during a very important performance. When she reached the climax of her story, we grew quiet; you could have heard a pin drop in the room. We just sat there, feeling bad for her. After what seemed like an eternity of silence my roommate PUT UP HER HAND and quietly asked, "Did it make a loud sound? You know, when you fell?" Thank god! We were all wondering. (The sound was described as a "moderately loud thud.")
I think Murder Couple broke up. I keep seeing the male part, but not the female. There was a stabbing in my neighbourhood last week, so now I'm wondering if she got arrested. Anyway, he looks terrible and I feel bad for him. Not bad enough to let him get anywhere near me, but still. Maybe I should leave a comb and some shaving cream by the curb for him? Please advise.
I was really worried that I'd be sad about leaving my job on June 9th, but then things got really ridiculous and it seems like everyone is quitting and/or freaking out, so now I feel like this: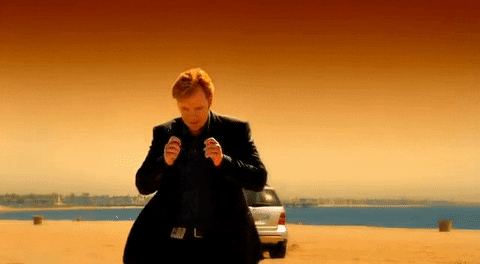 Of course, I'm pretty excited that I've started a mass evacuation because now I've got proof that no one wants to be anywhere if I'm not there. (I just high fived myself.)
Despite my overwhelming popularity, I've been feeling kinda meh lately. As in: I have no direction in my life and lack the motivation to break out a map. I don't even have the energy to panic about the situation, which is weird for someone as anxious as I am. Rosie Beaucoup has taken to calling me a freelancer. This is because freelancer sounds better than: my unemployed middle-aged daughter. When I asked Mrs. Rutherford just what the hell I was going to freelance, she said, "You're a freelance artist, dummy. Just do art stuff."
Speaking of the Rutherfords, a Rutherford kid has a birthday coming up and wants me to bake the cake. After the Star Wars Disco cake of 2016, I asked Mrs. Rutherford to try to talk her kid into a theme I could understand. A couple of days later Mrs. Rutherford called.
Mrs. Rutherford: Good news, I talked her into a cat cake.
movita: Finally! A cake I can get on board with! This is going to be awesom–
Mrs. Rutherford: Wait. Don't get excited. She doesn't want a regular cat cake. She wants a WARRIOR cat cake.
movita: Son of a bitch.
I think I'm going to write a book this summer. A volume of Ballet Explained. And then I'll sell it and become a hundredaire. Does the word volume make me sound douchie? Are you deleting me from your reading list? DON'T LEAVE ME.
SaveSave