I recently finished watching Seven Seconds on Netflix and it's the best show I've seen in ages. I yelled at my television a lot (WHAT? NOOOOOOO!) and did some crying (the blubbering kind). Apparently there won't be a second season because people are idiots.
Since writing about the time I almost pooped my pants on one of Halifax's busiest streets, I've been approached by 473 people who wish to share their own poop disaster stories with me. I'm the Crap Whisperer. I ran into a former student who said, "Hey, maybe your poop story will go viral and your career will take off." I responded with, "I don't think you know how careers work." And she said, "Maybe YOU don't know how careers work."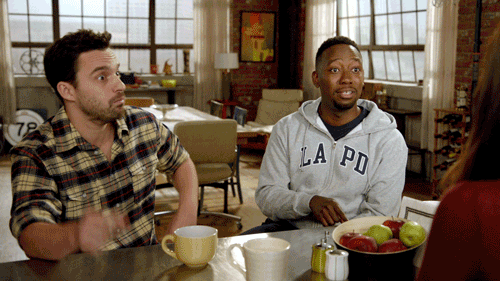 2.0 has been on a golf trip for a week and a half and I've consumed so much shrimp that I had to research how much shrimp is too much shrimp to eat. You'll be happy to know that you would have to eat 8.25 lbs a day to exceed your maximum daily iodine intake. (I'm just under the wire.)
After returning from his annual trip a couple of years ago, 2.0 asked:
2.0: Can we rename Effie?
movita: I don't think that's a good idea, but what did you have in mind?
2.0: Tupelo.
movita: What? Why?
2.0: There's a golf course in South Carolina that I really like – Tupelo Bay.
movita:
My favourite reporter, Brett Ruskin, being my favourite again:
VLOG 2: Full Boston Marathon recap ~ My wife raced a train. I spray-painted a flag. Everything got wet.

Posted by Brett Ruskin on Tuesday, April 17, 2018
Related:
A few years ago I took a course about providing 'positive experiences for children' with a focus on the 'emotional wellbeing of athletes.' Apparently you can learn everything you need to know about being a decent coach in five hours, so my boss made attendance mandatory. When the course instructor insisted that 'sarcasm has absolutely no place in the dance studio,' every single head in the room whipped around to look at me. I mean, it's MY SIGNATURE STYLE! So no, I didn't bother to complete my certification and yes, my students are some of the funniest people I know. BECAUSE OF THE SARCASM.
Kiehl's has a habit of giving me free samples of products I can't afford to purchase on the rare occasion that I've actually acquired the funds to buy something at the store thus creating a vicious cycle of longing and desire. (Sorry about the awkward sentencing.) I particularly enjoy samples of their serums because serums sound preposterous and I like putting ridiculous things on my face. When I apply such products, 2.0 likes to put on a good show:
2.0: *screams bloody murder*
movita: *screams bloody murder back* Jesus! What the hell, honey?
2.0: Oh my God! It's you! You scared the shit out of me! I didn't recognize you. I thought a someone– a supermodel?–broke into the house! Did you do something to your face?
movita: Why, yes. Yes, I did.
Songs that make me want to kill people, ranked:
We Built This City – Starship
My Heart Will Go On – Céline Dion
I'm Too Sexy – Right Said Fred
The Chipmunk Song – Alvin and The Chipmunks
Hanging Tough – New Kids On The Block
(Everything I Do) I Do It For You – Bryan Adams
Manic Monday – The Bangles
Barbie Girl – Aqua
Who Let the Dogs Out – Baha Men
I Ain't Missing You – John Waite
And finally, Brett Ruskin chokes on a snowflake:
I choked on a snowflake. #notlive #winterrisks

Posted by Brett Ruskin CBC on Monday, December 12, 2016
.