This is basically an all-things-birthday edition of Crap, so get ready to celebrate the delight that is me in a big way.
Last week I turned 47. Sharing a birthday with the anniversary of the 1946 prison riot at Alcatraz is tough, so to make up for the downside of a holiday birth date I bought myself two tickets to see my writing idol, David Sedaris, in August. I can't think of anything I've been more excited about in recent years. If 2.0 decides not to use his ticket I will host a series of competitive events to pick an alternate guest. (The tournament will be rigorous and involve theatre safety drills and a Sedaris trivia speed round.)
On my birthday my friend Jamie sent a message to ask: Is today your for real birthday? I thought it was next week.
The day after my birthday my pal Christine emailed to say: I know it should be on the 1st of May and that you choose to celebrate it another day just to confuse people. When I confirmed the date of my birthday she responded with: Are you sure? That doesn't sound right to me.
Two days after my birthday my friend Heather messaged to say: Happy (belated) birthday, friend. (I am late, right?) I still have that brain block when it comes to the 2nd or 4th (and sometimes 6th).
Do you think it's time I make some new friends? Or should I just buy them personalized calendars?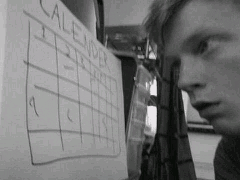 We bought a new car! This is because 2.0 said he was going to buy me a propane tank for the barbecue for my birthday, AND I WASN'T STANDING FOR IT. About 48 hours after picking up our pristine new ride, it was defiled when my mother spread a light dusting of cornstarch across the console and passenger side seat. Yes, you read that right. Cornstarch.
Of course, Rosie always treats me like a queen on my birthday so the cornstarch was soon forgotten. (Just kidding, I'LL NEVER FORGET, MOTHER.) We ate a pile of lobster for dinner and I brought the prettiest grocery store cake available. By the way, if one more person judges me for liking grocery store cake the best, I'm gunna lose my shit. I KNOW I WENT TO BAKING SCHOOL, PEGGY. WHO DO YOU THINK BAKES THOSE GODDAMN GROCERY STORE CAKES? (Baking school grads, dumbass.)
In non-birthday news, 2.0 noticed that when I log in to online banking I have my bank card number memorized. I was all: yah, better just to keep it memorized and not stored in the computer. But I was thinking: one day if we are kidnapped I will know my banking information by heart and I will be able to pay for our freedom, you sweet, simple moron. What is it like, I wonder? Never to worry about being stolen by depraved hoodlums…
We have grapes growing all around our deck, and 2.0 is training the vines to make a canopy for privacy. This makes it sound like he's doing fitness drills with the vines, but really it's just a system of wires for them to grow along over the deck. He says we'll add some twinkle lights and then sit under the leafy umbrella when the hot, sticky nights return. This probably sounds very lovely to a lot of people, but all I can think about is how many spiders are going to fall into my drinks.
Finally, my mother is convinced that my dishwasher has a third rack that I simply 'haven't noticed' because hers has one and she is sure that all Bosch dishwashers have them.
I told her that we've had our machine for a few years and was quite sure we would have noticed by now, but she wasn't buying it. She was so insistent that last night I found myself actually looking for the third rack. NEWS ALERT: it wasn't there.