Book writing update: I wroted about 50 words. That's between two book ideas, so 25 words for each practically-finished book. I haven't been writing much of anything on this blog because — OBVIOUSLY — I've been busy writing books. Still, some of you get impatient when I haven't posted here for a while. I'm beginning to think I'm going to have to fake my own death like this guy. (But I'd take way better photos.)
Everyone's been talking about banning drinking straws and coming up with practical alternatives. I'd just like take a moment to remind people THAT HUMANS CAN DRINK WITHOUT STRAWS. Yes, I know we need to have some on hand for those with disabilities — JESUS PATRICIA TAKE IT EASY — but the rest of us should be just fine.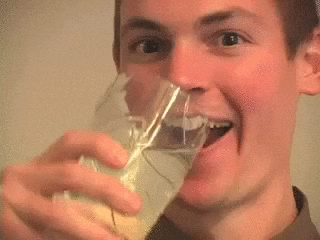 That said, my high school boyfriend's mother insisted that we drink everything with straws because she was worried one of us would chip a tooth if we drank directly from a glass. Has this happened to anyone you know? Is this a scrape people are getting into on the regular?
The other day I went for a walk and there was a surprise downpour. The Weather Network said I'd have plenty of time for Fitbit steps before giving the construction crew a few blocks over a gander at a one-woman wet t-shirt competition, but I guess the Weather Network lies. On the plus side I made a bunch of new friends and joined a bowling league.
Not-so-long-ago 2.0 surprised me with a meal when I arrived home from work. I was super hungry and delighted to learn that I'd be putting food in my belly and it was food that I didn't have to cook. The meal? Meat with a side of meat, of course. No veggies. No fancy sides. Just beef with a side of pork. It's a little like living with a polar bear.
I was talking about kitties with one of my older neighbours and he told me about a much beloved cat that he and his wife had for 20 years. When he got to the part about saying goodbye he said, "I know most people just throw them out in the trash, but when our cat died we decided she was a part of the family so we buried her in the yard. We just didn't feel right about putting her in the garbage can." Out loud I was all: that's nice, but in my head I was all: WHO THE HELL THROWS THE FAMILY PET OUT WITH THE GARBAGE? Is this happening in my neighbourhood? Because this guy was super casual about it. And… are there other family members in his yard?
Speaking of beloved furry friends, Effie has been visiting me in the form of neighbourhood dogs.
Also speaking of beloved felines, our long-gone-never-forgotten friend Ebony once had a procedure done which involved shaving one of her legs. When we brought her home 2.0 turned to me and said, "Hey, honey? I always thought that Ebony was Caucasian, but now? With the fur shaved off her leg? I see that she's African American."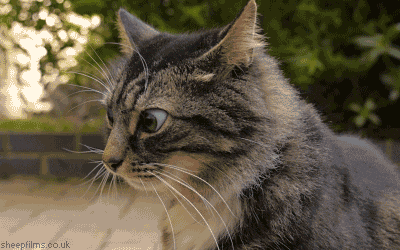 I was discussing my Bucket List with someone and when I got to 'learn to drive a standard' I was told it was unnecessary. I won't lie to you: I felt immense relief. I put the skill on my list because I figured if I was at a rager and someone broke his elbow and the car at the end of the driveway was a standard and I was the only person sober enough to drive — gasps for air — I'd be happy to have the skill. But it turns out most people drive automatic transmissions, I don't go to ragers, and I'm never sober. When I suggested replacing that item on my list with: learn to parallel park, someone else said: just buy a car that does that, dumbass. And then I remembered that money solves all problems.