My summer of funemployment is underway! I know what you're thinking: please don't ever use the word funemployment again. I can't make any promises.
I know I said I'd be around here a lot more, but I've been super busy. I reorganized my craft room, bought a new scratching post for the cats, and… well it felt like a lot, you know?
Murder Couple update: I found Murder Lady! I saw her walking by my house the other day, and she looks like she's doing way better than Murder Dude; she looks refreshed and happy. This could be for a few reasons:
She broke up with Murder Dude and she's happy about it.
She hasn't broken up with Murder Dude but she has devised the perfect plan to take care of him it.
She and Murder Dude are still together, but only because they've come to an agreement about who's in charge of clean up. Know what I mean? Guuuuys?
She recently beat a murder rap and is now free to get on with her life's work. (This would explain her recent absence and well-rested appearance.) (She was in jail.) (You can sleep a lot in jail.)
Related and unfortunate: it looks like Murder Dude may be trying to grow his hair out.
I generally try not to be too self-conscious about my appearance. Mostly because if you're able-bodied and breathing, you really shouldn't complain about your crooked teeth and droopy eye. But the men in my life are doing their best to shake my confidence.
2.0 will often say, "We'll go when you're ready," and then give me the once over. But I am ready – dressed and wearing makeup – leaving me to wonder if I'm not as adorable as I think I am.
Recently, my plumber stood at the front door and said, "I'll come back later because I have to shut off the water completely and that way you can have a shower first." I was bathed and wearing makeup.
A couple of weeks ago my father sent me an article titled "How I Kept My Ballerina Body… Aged 54." No message attached, just the article.
The other day 2.0 pointed at a magazine and said, "Why don't you pick up a copy?" It was Senior Living Magazine.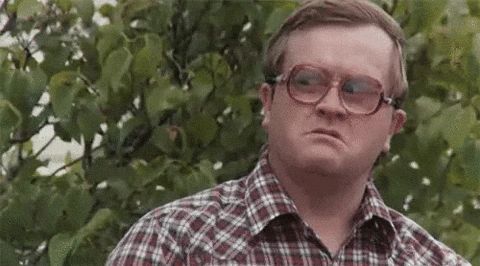 My sister came to Nova Scotia for her vacation in June, and we spent the entire time celebrating my father. In two short weeks we celebrated Father's Day, his retirement, and his 70th birthday. We're completely exhausted so we probably won't celebrate anything that man does for the next three years. Unless he cures cancer or something. We're not monsters.
While here, my sister encouraged me to follow A bear on Twitter. No regrets.
I do not usually like to brag, but I can fit seven acorns in my nose. I feel like this is an impressive number of acorns to fit in a nose.

— A bear (@A_single_bear) June 13, 2017
I got stuck on a red plastic slide and while I wiggled free so many humans shouted at me please do not shout at me while I am so vulnerable.

— A bear (@A_single_bear) June 8, 2017
I made this:
.
I didn't make this, but wish I had:
I bet no one ever wonders if that guy is ready to go.